It is common for you to have multiple computers at your home. However, when you have them in your workspace, you probably go for setting up a Land Area Network (LAN).
Sharing files over such networks is a problematic task, especially for noobs. Otherwise, also, there is a lot of hassle associated with the process. Here's where tools like Warpinator come into the picture.  
The good part is that it doesn't imply over LANs only; you can use it over devices sharing a standard network, preferably.
If it's wired, you don't need an internet connection, yet you ensure a speedy and reliable transfer. So, let's unleash to learn more about how Warpinator works! 
What is Warpinator?
Warpinator is open-source software that Linux uses as default for sharing files conveniently over its network. Linux Mint community has developed Warpinator. However, it was included from Linux 20 onwards, so some might find it; you can fetch it online. 
Besides, as it's an open-source software tool, you can even check its GitHub repository for downloading it. It's robust, fast, and efficient Ubuntu file sharing over a network. These include both wired and wireless networks, especially LAN. 
---
Warpinator – The Unofficial 
Warpinator's primary task is to share files over devices on a network which can also be PC, Android, iOS, and Mac. In such cases, you can use their respective versions.
However, these won't be official. Yet it would be wrong to call them illegal as the OSS community grants users the rights to modify and distribute the existing Open Source Software. 
---
How to Install Warpinator? 
To install Warpinator and similar systems, visit Flathub's official website and click the Install button. After downloading the file, proceed to complete the installation. Ensure that you would need administrative privileges to log in accordingly.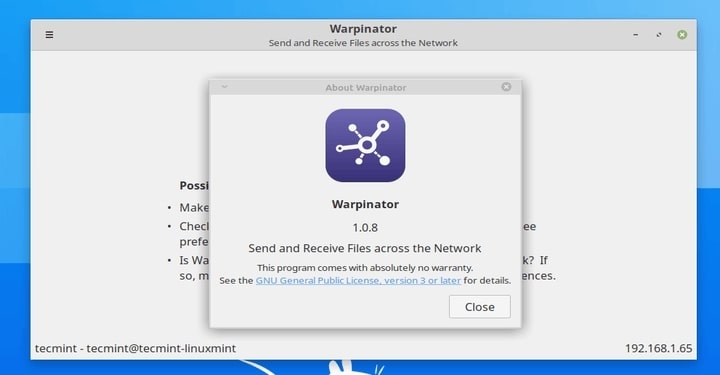 When it comes to your smartphones, you can download the app for iOS and Android as well. However, things turn out differently as the developer isn't Linux Mint here. Yet, it uses the same protocol. To download Warpinator on Android, check out the link here.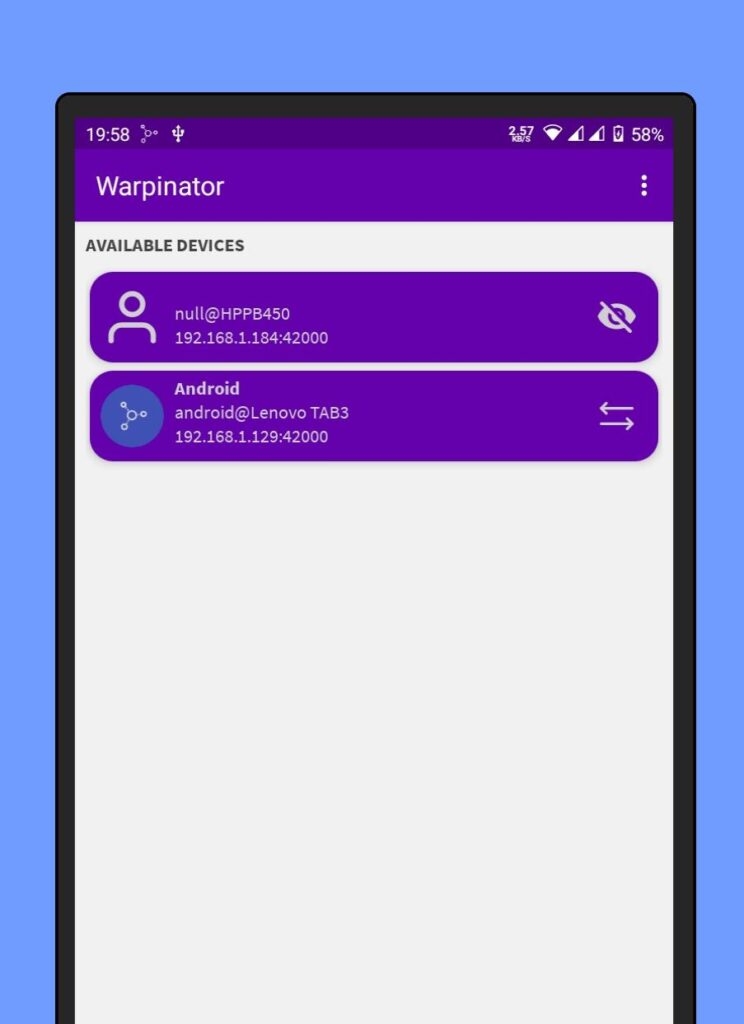 ---
Manually Install Warpinator on Linux Mint 20
Open Terminal and execute the command given below
sudo apt install warpinator
After installation, Warpinator will show up in the menu. If not, then you can open Waprinator from the command line tool.
Execute the command in Terminal to go to Warpinator
warpinator
---
Manually Install Linux Mint 19.x and Above 
Linux Mint has created a PPA repository where you would get Warpinator for older versions of Linux. However, these won't install the file transfer tool directly but will install the PPA. After which, you should update the package index and then proceed to the installation of the tool.
sudo add-apt-repository ppa:clementlefebvre/grpc
sudo apt update
sudo apt install warpinator
---
How to Use Warpinator?
To use Warpinator, the first step is to install it for all the devices on the network. 
Further, follow the steps given below:
Open Warpinator for all devices over the LAN
Use your sending device and tap on the device where you want to send the file 
On a desktop computer/laptop, drag or drop your files from your computer into File Transfer Box
For Smartphone, tap the Transfer option and choose the files/folders which you want to share 
Now, your sending device will send a request to the receiving device, which you must approve. 
---
How to Fix Warpinator Not Working?
When Warpinator does not work, install the app or software on your device and wait for them to discover each other. You must ensure all devices are on the same network and adequately set up. Next, your devices would get a group code which should be the same across all devices over the network. 
For security or other reasons, if you use VPN, Firewalls, or similar, then disabling them for the time being can help. An official app for this and even unofficial ones can connect. The only condition is that they should work on the same protocol. 
---
Features of Warpinator
There are several features of Warpinator which make it incredible. Hence, let's check them singly! 
1. Friendly UI
Warpinator has a friendly Graphical User Interface, making it easy for beginners to pro-level to share files over the network. 
2. Local Network Protocols
Local network protocols allow you to transfer files without requiring an internet/Wi-Fi connection. 
3. Cross-Platform Sharing 
Being an open-source software, there are different official and unofficial versions for other systems. Thus, cross-platform sharing has become easier as only a common network protocol is required, and it shows inter-device sharing.
4. Secure File Sharing
The file-sharing tool uses security encryption to ensure the files are safely shared across the network. 
5. Drag and Drop
For easy file sharing via desktop, you can drag and drop files into the transfer box, making the process easy.
6. Real-Time Updates
Warpinator lets you check real-time updates on the status of file transfers. It displays progress indicators, ensuring you can track the transfer process and estimate the time remaining for large files.
---
Is Warpinator Safe to Use? 
Yes, Warpinator is safe to use. It has developed several features to ensure its security. One includes file transfer Permissions even after connecting devices on the network. Thus, it keeps incoming malware away from your device; no one can share anything without your permission. 
Further, apart from devices on the network, foreign devices can only connect with yours. Hence, it keeps you secure. It doesn't track your device or its activities besides file transfer. However, it's open-source software, and different variations can occur in the future. 
---
Frequently Asked Questions
What is the use of Warpinator?
Warpinator transfers files connected to a shared network like LAN or Wi-Fi.
Is Warpinator available for Windows?
Yes, an unofficial yet legal version of Warpinator Is available for Windows.
What programs are like Warpinator?
AirDrop, Snapdrop, EasyJoin, GSConnect, and Rsync are like Warpinator.
---
Wrapping Up
If you were searching for more about Warpinator, then you would have got your answer! It is an efficient and robust tool for sharing files across a network. Besides, it's reliable and easy to use for beginners.
Being an Open Source tool, you can access its source code, make more modifications, and even distribute it afterward. There are several versions of Warpinator; hence, it is available for Linux, Windows, Android, iOS, and even Mac. Though some are unofficial yet they work as follows a common protocol.
Further Reading: