Motorola has just launched two cutting-edge foldable smartphones in the Indian market, the Motorola Razr 40 and Razr 40 Ultra. These incredible smartphones, which are the successors of the hugely acclaimed Razr line of phones, combine an elegant design, solid hardware specs, and a slew of game-changing capabilities.
The Razr 40 series features an outstanding flip display technology that allows users to easily switch between a tiny form factor and a large 6.9-inch pOLED screen. Both smartphones feature great performance and unsurpassed efficiency thanks to top-of-the-line CPUs available in their respective pricing groups.
Here is an in-depth look at the Motorola Razr 40 Series.
Motorola Razr 40 Series: Overall Specifications and Features
Motorola Razr 40 Ultra: Specifications and Features
The Motorola Razr 40 Ultra is a beautifully designed foldable smartphone with a 7000 series aluminum frame and Gorilla Glass Victus protection on both its front and back surfaces. The Razr 40 Ultra offers an immersive visual experience thanks to its large 6.9-inch foldable Full-HD+ pOLED display.
This display has an excellent 165Hz refresh rate and an ultra-responsive 360Hz touch sampling rate, providing smooth interactions and fluid transitions. Furthermore, the display offers a 100% DCI-P3 color gamut and HDR10+ certification, ensuring rich and accurate color reproduction.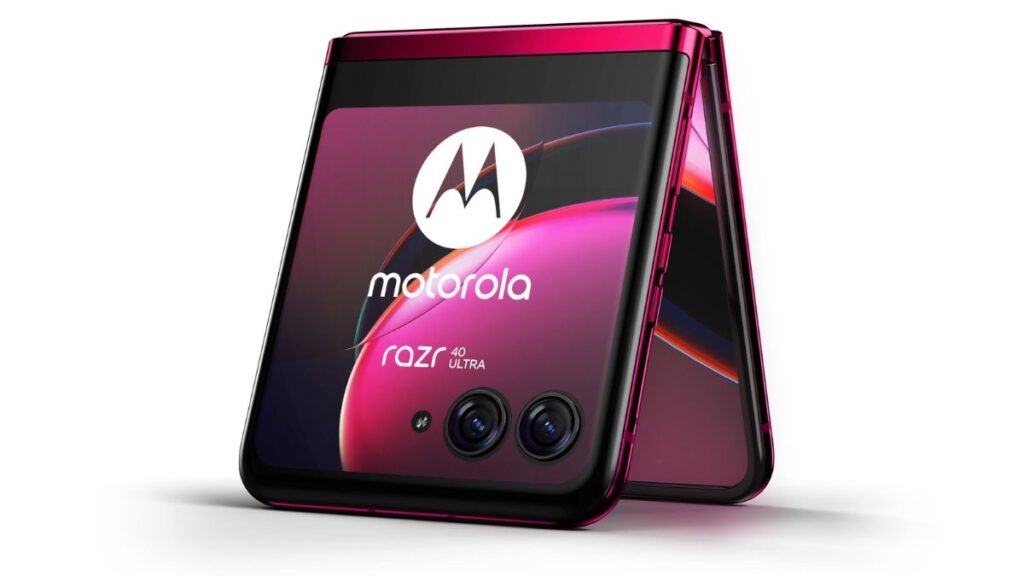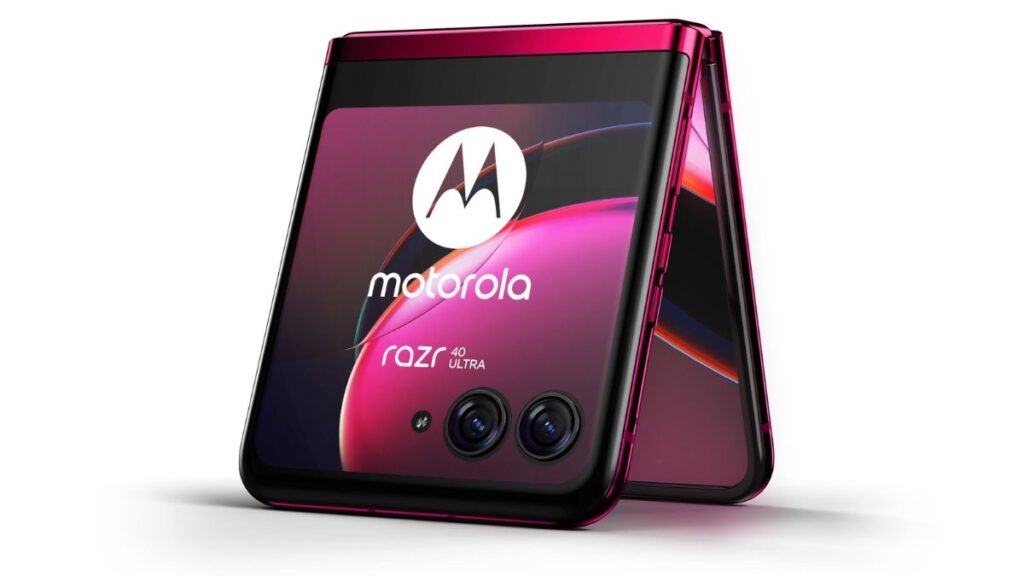 Furthermore, the Razr 40 Ultra features a smaller 3.6-inch flexible AMOLED outer display with an amazing 144Hz refresh rate and a fast 360Hz touch sampling rate. This secondary display allows the user to quickly access alerts, clocks, and music controls without having to unfold the phone.
It is also useful for taking selfies and making video calls. The crazy part is you can even perform most of the complex tasks in the secondary display, which includes playing BGMI, replying to WhatsApp messages, watching YouTube videos, and so on.
The powerful Snapdragon 8+ Gen 1 CPU, considered one of the most formidable mobile processors available today, powers the Razr 40 Ultra. This phone comes with 8GB of LPDDR5 RAM and 256GB of UFS 3.1 storage, giving users enough power for demanding jobs, multitasking, and gaming.
The back camera system on the phone has a 12MP Sony IMX563 sensor as well as a 13MP ultrawide SK Hynix Hi1336 sensor. These cameras collaborate to produce high-quality images and videos. A 32MP front-facing sensor housed on the internal display complements the back cameras, providing outstanding selfie capabilities. All cameras are capable of shooting 4K 60FPS.
The Razr 40 Ultra has numerous interesting characteristics in addition to its amazing performance. A 3,800mAh battery with 33W TurboPower fast charging facilitates quick and efficient charging. The device also supports a 5G connection, allowing users to connect to the internet at fast speeds.
It also supports nano-SIM and e-SIM cards, as well as Wi-Fi 6, Bluetooth 5.3, NFC, and a USB Type-C connector. The IP68 certification of the phone assures resistance to water and dust, giving consumers a wonderful experience even underwater.
Overall, the Motorola Razr 40 Ultra is a versatile and strong foldable smartphone that strikes a nice balance between its large feature set and outstanding performance. This device is ideal for those looking for a versatile companion capable of providing intense gaming experiences, flawless multitasking, and the capturing of good-looking photos and videos.
Motorola Razr 40: Specifications and Features
The base Motorola Razr 40 also includes a 6.9-inch inner foldable display for an immersive visual experience, as well as a handy 1.5-inch outside display. The outside display has an 8-bit OLED panel for brilliant color reproduction and a seamless user experience with a 60Hz refresh rate and an amazing 120Hz touch sampling rate.
The phone is precision-crafted with a beautiful aluminum frame and a textured back surface that improves grip and ergonomics. The Razr 40 is fortified with Gorilla Glass Victus on both the front and back to protect its fragile components, providing great scratch and drop resistance.
Under the hood, the Razr 40 is powered by a fast Snapdragon 7 Gen 1 CPU, which allows for seamless multitasking and quick response. It has 8GB of RAM for fast operation and effective handling of numerous apps and workloads, as well as 256GB internal storage for substantial storage space.
The camera setup on the Razr 40 will appeal to photographers. It has a 64MP main camera with OIS, allowing users to shoot detailed and clear photographs. It also has a 13MP ultra-wide lens with a 120-degree field of view, which is ideal for shooting good landscapes and group photographs.
The phone includes a 32MP front-facing camera tucked within the inner punch-hole, enabling decent self-portraits.
The Razr 40's 4,200mAh battery guarantees a long-lasting user experience by delivering enough juice to meet everyday usage expectations. Furthermore, it enables 33W TurboPower cable charging for quick charging convenience, as well as 5W wireless charging.
Considering practically, the Razr 40 has an IP52 water-resistant rating, which protects against mild splashes and spills. It has a good connectivity setup, as it supports Wi-Fi 6 and Bluetooth 5.3 for seamless wireless connectivity.
Furthermore, the phone has one physical sim and another e-SIM, allowing it to use different mobile networks, and it has 5G capabilities, offering fast and stable network access for increased browsing and streaming experiences.
Both smartphones ship with the most recent version of stock Android, which provides users with a clean, straightforward, and bloatware-free experience.
Motorola Razr 40 Series: Pricing and Availability
The Motorola Razr 40 Ultra is priced at 89,999, while the Razr 40 is priced at 59,999. Motorola has offered a unique limited-time deal to entice potential purchasers. Customers who use an ICICI Bank credit, debit, or EMI card to make their purchase will receive a 7,000 initial discount on the Razr 40 Ultra
Motorola will exclusively make available these two new smartphones on Amazon. These cutting-edge devices will be available in a variety of colors and materials, including the sophisticated Infinite Black, refreshing Glacier Blue, vibrant Viva Magenta, serene Sage Green, elegant Vanilla Cream, and captivating Summer Lilac.
Read: Apple AirPods Pro with Hearing Health Features is Supposedly Under Development