boAt, a renowned Indian wearable company, has released its first smart ring. The boAt Smart Ring is a stylish and thin wearable that can monitor numerous elements of your health and fitness.
It has a heart rate sensor, a SpO2 sensor for measuring blood oxygen levels, a sleep tracker, and even a female menstrual cycle tracker. It also contains a function that monitors bodily recovery to assist users in understanding their overall health and fitness.
boAt Smart Ring is Now Official
boAt, an Indian audio company, has revealed its first smart ring, a ceramic and metal combination that offers both design and endurance.
This lightweight ring is not only attractive, but it also has health-tracking features. Users may monitor their heart rate, oxygen levels in their blood (SpO2), sleep patterns, body temperature, and even menstruation cycles. Furthermore, the ring has smart controls for easily managing compatible devices.
The boAt Smart Ring will be available for purchase shortly on prominent sites like Amazon, Flipkart, and boAt's website. While the specific price has not been released, it is believed to be affordable.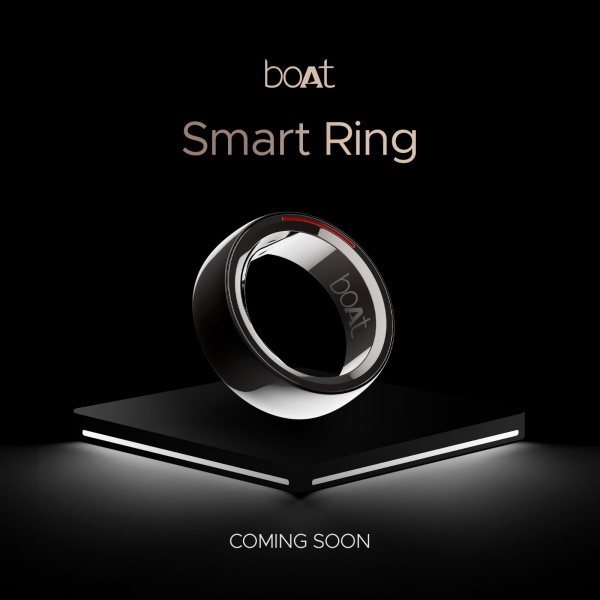 This new gadget is intended to appeal to anyone looking for a stylish and economical solution to monitor their health.
Its compact size provides a comfortable fit, and the variety of health-tracking capabilities make it a useful tool for staying on top of one's health.
Although its real-world performance is yet to be determined, the boAt Smart Ring has the potential to become a popular alternative to standard smartwatches.
Here are some observations on the boAt Smart Ring:
The boAt Smart Ring is an intriguing new product that has the potential to appeal to a wide spectrum of people. The ring's tiny size and low price make it an excellent choice for people searching for an attractive and simple-to-use health tracker.
The array of health-tracking options on the ring is particularly astounding. The heart rate monitor, SpO2 monitor, and sleep tracker are necessary for anybody interested in keeping track of their general health.
The menstruation tracker is useful for women since it allows them to track their periods and discover potential health issues.
Overall, the boAt Smart Ring is a well-rounded device with the potential to replace smartwatches as a popular alternative. I'm curious to see how the ring functions in real life and whether it becomes a hit.
Read: WhatsApp is Now Officially Available on Wear OS 3 Smartwatches